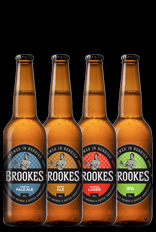 We're just homebrewers that got out of control.

Our brewery's in Bendigo, an hour and a half from Melbourne. We sit in a corner of a vast rambling, comfortably old and dishevelled industrial facility in East Bendigo.

We love Craft Beer and are passionate about what distinguishes us from factory beers – freshness and flavour. We brew to bring out the best of the ingredients we use to create fresh beers full of satisfying malty flavour balanced with lifted fresh hops.

Expect to see an ever changing parade of seasonal brews from us, along with reliable favourites. Visit us to see what's new in the line up.

Our production philosophy is that our equipment is made to work and if it's not brewing our beer it should be brewing someone else's. We welcome enquiries from anyone wanting full batch supply of either kegs or bottled beer. Email us at to discuss your contract brewing requirements.